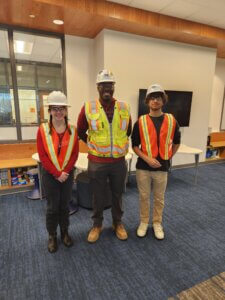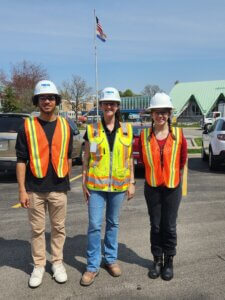 Project Managers Emily Echele and Ayo Ojolola, both AGCMO CLC Members, eagerly accepted the opportunity to host a job shadowing day for two high school seniors from a long-time client, Pattonville School District, to expose them to careers in construction and provide insight on educational opportunities and experiences that could be beneficial in a career path to construction project management.
S. M. Wilson's Construction Career Education program SKILLED® provides hands-on opportunities to integrate academic learning and focus on future employment in the A/E/C industry. SKILLED complements our work in the K-12 market and is an important component of our diversity, equity, inclusion and workforce development efforts. Working closely with school districts and non-profit organizations, S. M. Wilson has the unique opportunity to make a lasting impact on students, the community and the construction industry through our three-pronged approach – Discover, Develop, and Elevate. The program increases awareness of and exposure to construction careers. It builds a more diverse talent pipeline in our industry while addressing skilled workforce shortages and inspiring the future of construction.
Echele was named the 2023 Construction Leadership Council Steering Committee Vice Chair for AGC. Ojolola is an At-Large member.
Over the past three years, S. M. Wilson has partnered with the following school districts: Alton, Francis Howell, Hallsville, Hazelwood, Ladue, Pattonville and Sikeston among others to deliver SKILLED programming to students. Learn more at www.SMWSKILLED.com.
ABOUT S. M. WILSON & CO.
S. M. Wilson is a full-service construction management, design/build and general contracting firm with headquarters in St. Louis and offices in Edwardsville, IL and Cape Girardeau, MO. Founded in 1921, S. M. Wilson is dedicated to going above and beyond expectations for their clients by putting people first. The 100% employee-owned company is one of the leading construction management firms in the Midwest. Areas of expertise include K-12 education, commercial, healthcare and industrial projects. For more information, visit www.smwilson.com.