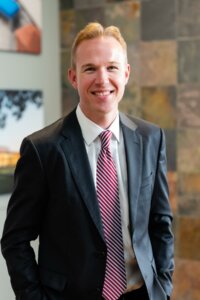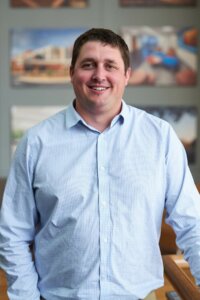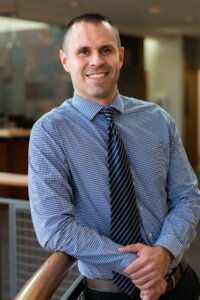 From left: Patrick Aylesworth, Kerry Lorts, Jason Gasawski

ST LOUIS, MO – S. M. Wilson & Co., a St. Louis-based construction manager and contracting firm, has expanded their operations leadership team by promoting Jason Gasawski, Kerry Lorts and Patrick Aylesworth to Directors of Operations.
"Significant growth in revenue coupled with our commitment to go 'Beyond The Build' for our clients led to our decision to add leadership," said COO Mark Cochran. In 2022, the firm had revenue growth of more than $100 million. "We are dedicated to delivering consistent and innovative services to our clients. These newly created roles will help us maintain that mission."
In his new role, Jason Gasawski will focus on company office operations in addition to overseeing projects. He is responsible for improving operational processes, integrating construction and project management technology into firm-wide procedures to increase productivity and efficiency, and adequately allocating staffing across projects to ensure delivery and performance. Gasawski has worked at S. M. Wilson for more than 15 years, most recently as a Senior Project Manager, and has 18 years of experience. His vast experience has covered the firm's education, commercial, retail, and industrial market sectors ranging in value from $250,000 to $105 million.
Kerry Lorts and Patrick Aylesworth will focus on client development in addition to overseeing projects. Their primary responsibilities include ensuring the overall performance and profitability of multiple project teams and developing company-wide building programs as well as cultivating relationships with new and current clients, subcontractor partners and architects.
Lorts has worked at S. M. Wilson for 12 years, most recently as a Senior Project Manager. Since joining the firm, he has been primarily focused on healthcare projects ranging from $4 million to $567 million for clients such as Washington University, Blessing Hospital and Illini Community Hospital. As the manager of S. M. Wilson's Illinois office, he has also overseen projects in the public sector including the City of Highland Public Safety Building, Madison County Transit New Administration Building and the City of Edwardsville R.P. Lumber Center. In his new role, Lorts will continue to manage the firm's Illinois office.
Aylesworth joined S. M. Wilson in 2018 and has served as both a Project Manager and Pre-construction Manager. He has 18 years of experience. Prior to joining S. M. Wilson, he worked for a large, construction firm in Arizona where he began his career as a virtual construction engineer and progressed to a project management position working on healthcare, civic, sports and hospitality projects. Aylesworth's work at S. M. Wilson has focused on the firm's K-12 education projects including building programs for Hallsville School District, Francis Howell School District, Winfield R-IV School District and Pattonville School District.

ABOUT S. M. WILSON & CO.
S. M. Wilson is a full-service construction management, design/build and general contracting firm with headquarters in St. Louis and offices in Edwardsville, IL and Cape Girardeau, MO. Founded in 1921, S. M. Wilson is dedicated to going above and beyond expectations for their clients by putting people first. The 100% employee-owned company is one of the leading construction management firms in the Midwest. Areas of expertise include K-12 education, commercial, healthcare and industrial projects. For more information, visit www.smwilson.com.
#  #  #

Media Contact:
Rachel Brown
rbrown@synergy-pr.com
314.266.7035